Our dependence on technology has stunted our ability as a species to truly communicate, according to John Zerzan, perhaps the world's most prominent anti-technology philosopher. The solution? Give it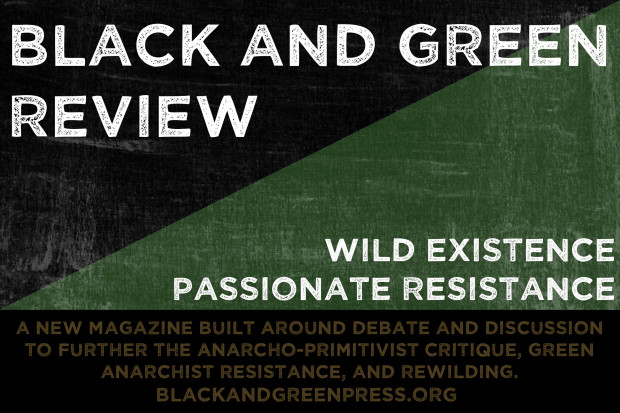 "So I've just launched a multipurpose funding campaign for B&G Press. The scope of this campaign is to get funds, preorders subscriptions, and bulk orders for my upcoming book, Roots: A Field Guide to Anarcho-Primitivism, and our new magazine, Black and Green Review.
There are a lot of killer ideas being pushed around and increasing potential to see a number of B&G Press titles out this year. Help us make it happen.

Please share this widely, we've got a lot of funds to gather and some awesome publications to sign on for.
International folks, hold tight, I'm working on figuring out appropriate international rates for mailing." - Kevin Tucker // Black and Green Press

" Knowing that money isn't always the easiest way to help, our hope is that if you don't have funds and are interested in pushing these debates and titles, you can at least help us spread the word as far and wide as possible. The more successful these campaigns are, the more we can put out for the world to see and the more accessible we can make it. "
Link: https://www.indiegogo.com/projects/black-and-green-press-funding
A part of me believes, no it knows, that somehow, some way, a new Golden Age is coming. Its screams of birth are the screams that we hear now, as the pain, suffering, death and confusion of collapse visit every nation and hearth on earth. Before a new house — one that includes a safe place for all life — can be built, the old one — the one that is sick, putrid, corrupt and dying — must be completely destroyed and defeated. It will achieve the fulfillment of its death wish. It will be satisfied with nothing less. There is no easier, softer way. Embrace the death of the old that you may experience, participate in, and rejoice in the birth of the new.
Spring has come and it is time to forage for many wild edible foods! Morel mushrooms are a favorite for me and very easy to ID. They are a truly wild food and have not yet been able to be grown in labs, thus making them the "anarchist mushroom." (thanks Kevin Tucker for your wit)
First sign of a morel (still growing) found early in the spring season. They grow much larger.
Here is some simple advice for beginners that has helped me get to know my local area. If you can afford a book it's great to take out in the field with you. Libraries usually offer some sort of local field guides for free. You can learn a lot by going out to a wild area and looking up what you see in a guide. Guides are usually broken up into sections described by leaf and/ or petal shape, color, season, etc and you will learn a lot by looking up what you see around you. If searching for edibles a guide will usually list poisonous looks alikes so you know what to avoid. They also include suggestions to avoid as a beginner if there are multiple poisonous look alikes for a certain food. Don't let this scare you! There is so much completely unmistakable food and medicine out there for you to forage.
Bring a friend or go solo but GET OUT THERE! I was taught many foraging tips from experienced friends who took me out on hikes. I had never spotted morels before and they taught me how and where to really look. Now every spring I'm out with someone new getting them stoked on foraging too. Calm your mind and get your hands dirty. You will not regret learning how to do this. The importance of connecting with your food can not be overstated.
My book suggestion is "Mushrooms Demystified" by David Arora

It's a hefty book with a ton of great information and photos.
Please share some of your favorite titles/resources/tips!
(Source: thehaegtesse)
CALL OUT FOR EXPRESSIONS OF INTEREST
'Never Alone' Exhibition June 11-30, 2014
Curated by the Earth First! Prisoner Support Project
This year on June 11 – the International Day of Solidarity with Marie Mason, Eric McDavid & all Eco-prisoners – we will be running the 2nd annual Never Alone online exhibition. It will serve as an avenue not only for fundraising for these political prisoners, but as a way to reach out informatively to a broad audience on issues of earth & animal liberation and state captivity. We would love to invite you to contribute an artwork to this exhibition.
June 11 started back in 2004 as the International Day of Solidarity with Jeff 'Free' Luers, an eco-prisoner sentenced to 22+ years in prison in Oregon (U.S.) for an act of arson against 3 light trucks in an effort to highlight the threat of climate change. This threat is now widely recognised, as was the incredibly unjust sentence that Jeff received. An international campaign of support had a massive impact on the fact that Jeff's sentence was ultimately reduced to 10 years. By the time he was released in 2009 many other activists in the U.S. had been locked up in prison for standing up for a better world. Two of these prisoners – Eric McDavid and Marie Mason – had been sentenced to 20 and 22 years respectively. Both were sentenced severely for their willingness to fight for a  world without oppression – be that of the earth, other animals, or our human communities.
Last year the Never Alone exhibition raised important funds for Marie and Eric's support campaigns. We want to build on all the amazing support shown by artists and art buyers, and make this year's exhibition an even bigger and more successful fundraiser. You can still see last year's online exhibition here.
Marie and Eric are contributing artworks for the exhibition, as well as a number of other amazing artists already on board. We are inviting a range of incredibly talented artists to contribute, whose art regularly touches on themes of liberation, wilderness and political action. We are very interested in contributions of original work, prints and small sculptures, and any other ideas that artists may have. Please feel free to get in touch and discuss with us any ideas you might have.
The exhibition will be online at www.neveraloneart.org, from June 11-30. It will be promoted heavily through our support networks, social media, and through other June 11 events being organised around the world. Artists involved would need to be able to provide suitable images of their artwork/s, as well as details of the dimensions, medium/s and price (incl. cost of postage within the U.S). We are hoping that any artists involved will be willing to contribute between 100-70% of the sale of any artworks at the exhibition, with funds raised going directly to the support funds of Marie Mason and Eric McDavid. We would also require artists to be responsible for posting any sold artworks to the purchaser, with those costs being reimbursed to you by our collective.
If you have any questions please don't hesitate to get in touch. Expressions of interest close on May 1st, 2014. We really hope to hear from you if you are interested in contributing, and look forward to working with you!
In solidarity,
The Earth First! Prisoner Support Project team
neveraloneexhibit@gmail.com
earthfirstjournal.org/june11
RIP Michael Ruppert
Thanks to Kevin Tucker of Black and Green Press for altering us to Michael's suicide and choosing this great quote..
"I do not care about political leaders or personalities. They are distractions. I do not care about war scares and the emotional drugs they unleash for those addicted, as I once was.

I am not facing down a man or men.

I am not facing down regions or peoples.

I am not facing down an economic system.

I am facing down a culture, an utterly failed culture that is lethal, blind, useless and almost incomprehensibly destructive.

Human beings do not have to die. But our culture must."
- Michael C. Ruppert

If you have not seen the documentary 'Collapse' you need to
No mention if he will be cooperating with the government yet.